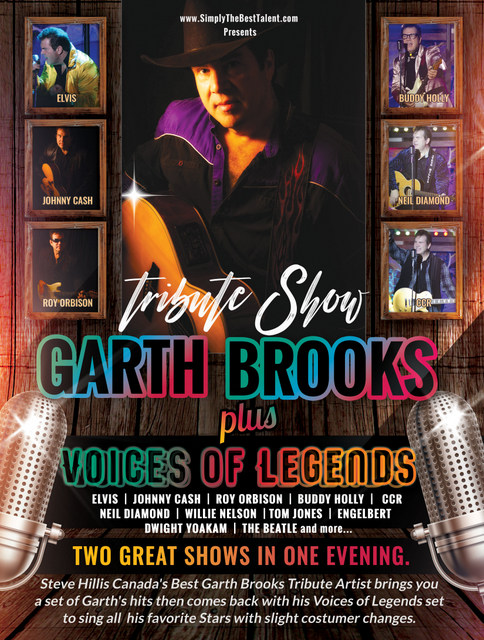 The Voices of Legends Show stars Steve Hillis and features his tribute to Garth Brooks as well as other legendary voices.
Steve Hillis always wanted to be a star, but he could never figure out which one he wanted to be. So he decided to give them all a try.
The Voices of Legends Show Characters
Elvis – Donning his Elvis glasses and scarf, Steve does his Elvis Hits Medley.
Buddy Holly – Steve morphs into Buddy by adding those signature glasses and growing his teeth.
Roy Orbison – Out comes the cool tinted glasses.
Johnny Cash – Now the dark side of the Man in Black, of course the long black coat and Steve's lowest voice.
Neil Diamond – Time for that glitter shirt and big voice. Sing along now…"Sweet Caroline BUM BUM BUM"
Creedence Clearwater Revival (CCR) – Steve can pull out his favourite plaid
The Beatle – That's right. No Typo. Only one Beatle. He was so stoned back then he didn't know who he was, so he made up a medley.
Bruce Springsteen – Finally a chance to wear a big RED bandana to Dance in the Dark.
Billy Idol – Spiky blonde hair time and a "Mony Mony" sing along.
AC/DC – Angus Young hat and coat and "YOU SHOOK ME ALL NIGHT LONG"
Engelbert – Ladies sit tight because here comes the suit and big bow tie and "Please Release Me" and "The Last Waltz."
Frank Sinatra – The Fedora is back in style for a Blue Eyes classic.
Michael Buble – Then Steve impersonates a person who impersonates Frank Sinatra Michael Buble.
Garth Brooks – The serious cowboy hat and country shirt. Do you have Friends In Low Places? Steve is arguably the best Garth Brooks Tribute in North America. You might get a big set of Garth if you're lucky.
For Bookings
Email: info@simplythebesttalent.com
Call: +1.604.288.7664
Promo Video:
Photos: